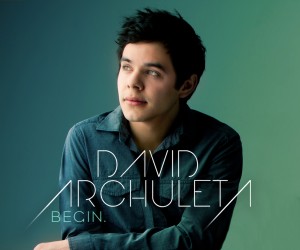 Singer David Archuleta, who is currently serving a two-year mission for The Church of Jesus Christ of Latter-day Saints, worked up to the last day before entering the LDS Missionary Training Center to give fans his new album, BEGIN.
The album features covers of popular songs such as "Angel" by Sarah McLachlan, "Bridge Over Troubled Water" by Simon and Garfunkel, "In the Name of Love" by U2, and a never-before-heard song co-written by David Archuleta, title "Broken."
David Archuleta hand-picked each song for this CD, believing that each shares an inspirational message of hope.
 The complete track list:
Beautiful, Christina Aguilerafile
Somewhere Only We Know, Keane
Everybody Hurts, R.E.M.
Don't Give Up, Peter Gabriel
Angels, Sarah McLachlan
Bridge Over Troubled Water, Simon and Garfunkel
Broken, David Archuleta
True Colors, Cyndi Lauper
In the Name of Love, U2
Be Still My Soul, Sibelius
A music video for his cover of "Everybody Hurts" by REM. The shots of David were recorded in a studio the day before he left on his mission.