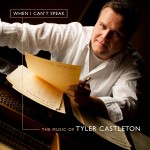 After nearly two decades of writing, producing and arranging music for some of the industry's top recording artists and performers, Shadow Mountain Records and Deseret Book is excited to announce the release of the first album ever of Tyler Castleton's music — "When I Can't Speak: The Music of Tyler Castleton."
The 17 track collection album includes some of Tyler's most requested songs, performed by the most beloved voices in LDS and Christian music. The album also includes brand-new songs, performed by Tyler, as well as newly recorded versions of popular, previously released songs.
The songs on the album, which released May 14th, were hand selected by Castleton.  Each of them has special meaning to him and illustrates his reason for writing. He describes the album as a "celebration of songs," because it represents the work of so many people.
"This album is as much everyone else's as it is mine," Castleton said. "I feel so grateful and so blessed to have been able to work with so many talented people."
The track list includes:
When I Sing (Tyler Castleton)
When I Can't Speak (Julie Yardley)

3.  Love Will Find You There (John McVey)

Again (April Meservy)
Just Like a Father Would (Mercy River)
I Will Not Be Still (Kenneth Cope)
Blessed Be His Name (Jenny Phillips)

8. Sometimes He Lets It Rain (Katherine Nelson)

9. For the Love Of a Woman (Jericho Road)

You Can Change (Julie Yardley)
You Give (Hilary Weeks)

12. Walk With Me (Tyler Castleton)

13.  I Just Knew (Cherie Call)
Sisters In Christ (Gladys Knight)
15.  Let Him Heal Your Heart (Dave Kimball)
16.   In the Meantime (Jessie Clark Funk)
17.   Shine On (David Osmond)